Traditionally, in Ghana, borrowing money has always been a hectic and bureaucratic process. The lending institutions, for instance, will request proof of collateral during the process.
Fortunately, with the introduction of MTN Mobile Money and Qwik loan, it is easier, faster and convenient to borrow money. Before you can get money from MTN Qwikloan, you need to know the application procedure to access the loan, the requirements, and the borrowing terms.
With these in mind, it will be easier and faster to get the loan. Knowing the requirements will also help you know the repayment terms to avoid listed as a defaulter leading to disqualification to re-apply.
Since the service is virtual, it is easier to know whether you are eligible for the credit and if not, the steps you can take to qualify for the loan. You can access the Qwikloan and all other MTN services by using these MTN Shortcodes.
How To Qualify For MTN QwikLoan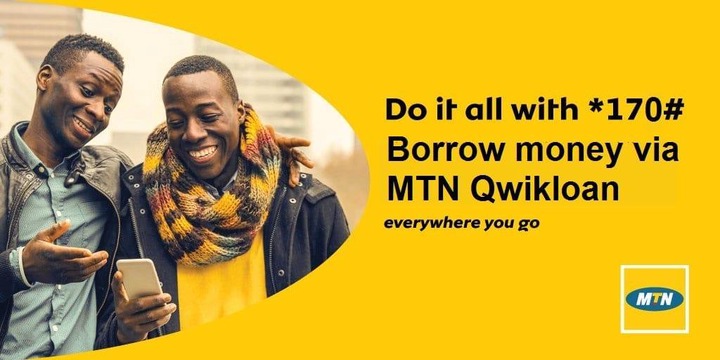 The QwikLoan is a loan service offered by MTN and thus has it's own guidelines regarding who qualifies for the loan and who doesn't. The platform relies on your MTN registration details and therefore, to borrow money using the platform, your mobile number must be under your name.
To qualify for the loan, you must follow below steps;
Be 18 years and above
Have an MTN Ghana sim card
You must have used the MTN services for more than three (3) months or 90 days.
Be an active user of MTN Mobile Money services and have an active e-wallet.
Must have a good credit score, if you used the QwikLoan services before.
After submitting your application for the QwikLoan, MTN will take some time to evaluate your request. If your loan request is successful, you will get an SMS confirming the loan amount and the repayment period. A 6.9% interest rate will be included in your confirmation SMS.
However, if your loan request was not successful, you should evaluate some few things. First, if you have a pending loan repayment, it is advisable to pay before requesting a new loan. Secondly, make sure your mobile money number is active.
How Much You Can Borrow With MTN QwikLoan
There is a set limit for MTN QwikLoan for first-time borrowers. In most cases, you can only borrow GHS 20 or GHS 50. However, if you are already a subsequent borrower of the service and your loan score is high, you have a chance of getting the GHS 1000 limit.
If you fail to pay your loan on time, it affects your credit score, thus disqualification from the service. In order to regain your score and applying again, you need to consistently use the service for more than three months.
This process applies to all other online loan lenders. All other loaners have their own requirements and procedures but all are similar.
When you are able to pass through all their requirements, you will get your loan faster.
To get more from online loans in Ghana, do the following:
Always keep money in your MoMo account balance. Don't withdraw frequently. And accept all payments through Mobile money.
When you borrow the first time, pay before time and don't borrow immediately after paying.
Make all your credit and bundle purchases via Mobile Money
Link a bank account to your Mobile Money account even if there is no money in it.
How To Apply For MTN QwikLoan
The process of applying for MTN Qwikloan is not hefty. Follow the procedures below to get a loan.
Dial *170# on your mobile handset
Select option 5 which is Financial services
Choose option 3, Loans
Select option 1, QwikLoan
Choose option 1, Get Loan
Enter your Mobile Money pin to advance to the next option
Enter your Loan amount and press send
At this moment, if you qualify for the Loan, you will receive an SMS shortly with your Loan amount sent to your MOMO account.
Conclusion
MTN QwikLoan and other online loan services have redefined banking in a more innovative way. No need to get a guarantor and stand in long queues in banks passing through hefty procedures just to access soft loans.
With MTN QwikLoans and other online loan services, all you need is your mobile device and passing through their requirements, you are a step ahead to access soft loans.
Source:mfidie.com